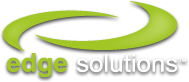 Edge Solutions provides proactive IT solutions that deliver a competitive advantage. Our technology consulting team is comprised of vibrant, diverse professionals—about 50% of our employees are women and minorities—who have extensive information technology, business management and channel management experience. That's not all. Our team cares: We nurture our customers, we give back to the community and we operate with integrity.
From IT education services to data center implementations for state and local governments and finance/banking, retail, healthcare, higher education and communications/media/entertainment industries, you can count on Edge Solutions for all of your technology consulting needs. Check us out. The mission at Edge is to provide innovative, real-world IT solutions that solve your business challenges. Learn more about our processes and tools that make it all happen:
Our Approach: Edge Solutions uses a robust methodology that addresses each stage of the technology adoption lifecycle and includes Assess, Design Your EdgeTM, Deploy, Optimize
and Expand phases.
Our Team and Culture: Our goal is to always make a difference for our customers, partners, team members and our community. Our entire team from management to account executives and technical consultants to our business support team members, works hard to deliver
the best technology consulting to our customers. When you love what you do, it's
easy to make a difference.
Our Technology Partners: We partner with the leading manufacturers, software vendors, service partners and more to bring you a comprehensive solution through a single point of contact. These solid partnerships enable Edge Solutions to give you premium technology consulting services.
Community Involvement: Our team gives back to the communities locally and around the world. It's part of who we are. We believe everyone can make a difference.
Industry Leadership: We are active members of leading local and national business associations that make a difference.
Awards & Recognition: Our company has been recognized locally and nationally as a fast-growth, successful IT organization.
Fact Sheet: Edge Solutions in a nutshell. Learn more about us at a glance.