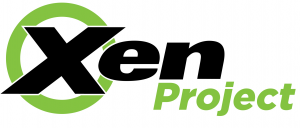 What is the Xen Project?
The Xen Project is the home for several virtualization related open source projects, and Xen Project is the new name for the Xen open source community. The Xen Project develops virtualization technologies powering the world's largest clouds in production and is the foundation of many commercial products. Technology developed by the Xen Project powers public clouds such as Amazon Web Services, Rackspace Public Cloud, and many others. Examples of Xen based server products include Huawei UVP, Oracle VM and Citrix XenServer. Examples of client products and appliances include QubesOS, Citrix XenClient and Netscaler. The Xen Project is 10 years old, and the technology it has created is mature and its stability and versatility is second to none.
What technologies are part of the Xen Project?
The Xen Project has created a number of open source technologies for specific purposes:
The Xen® Hypervisor is the open source standard for hardware virtualization and the foundation for all solutions hosted on XenProject.org.
The Xen Cloud Platform is an enterprise-ready virtualization platform based on the Xen Hypervisor, adding further functionality and many integrations for cloud, storage and networking solutions.
Xen ARM is a Xen based Hypervisor that targets embedded and mobile devices on the ARM architecture.
If you are unsure, which Xen project is best for you, you may want to read the Xen Overview document which introduces Xen's architecture, components and some of the key choices you will have to make.
Open Source
Software hosted on XenProject.org is, and always will be, open source. The code is licensed under the GNU General Public License (GPL2). Projects hosted on XenProject.org are developed by a world-wide community of individuals from around the globe that follow a governance process based on openness, transparency and meritocracy.